The R/V Thomas G. Thompson left Honolulu on November 5, 2011 heading toward the Western Pacific. This expedition journal was written by cruise participants and uploaded about once per weekday, depending on internet availability.
November 25, 2011: Turkey in the Brine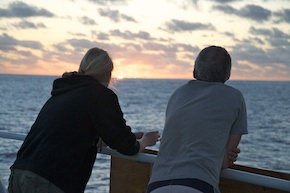 Relatively calm weather and a reprieve from seasickness, good data and good food, new friends and colleagues, one less homework assignment or exam, the ability to call home from the middle of the ocean to wish family and friends a happy Thanksgiving — these are just a few things for which we are thankful. Yesterday we celebrated our Thanksgiving a day earlier than those of you reading this blog from the States. We are one day ahead and eight hours behind Eastern Standard Time. For example, I called my family at 8 PM on Thanksgiving in Connecticut, but it was noon on Black Friday, here on the Thompson. As we head continuously west, we change time zones at least once a week, turning the clocks back an hour each time to maximize our daylight hours. But because ship and science operations run 24 hours a day, someone is on active duty at 2 am when the clocks change, instead of sleeping through it like most of us. The first time change took us by surprise and the midnight to 4 am watchstanders (Jen, Matt and Rachel) were dismayed to see 2 AM turn to 1 AM before their eyes, leaving them with three more hours of work. After that experience, we learned from the crew how they handled time shifts and adopted their plan. Now, to accommodate the time change each watchstanding shift works an extra 20 minutes so that one group doesn't feel the burden of an extra hour of duty.
But, I digress… Thanksgiving.
Our head cook Sarah and her team roasted two turkeys and a ham for our feast in the galley. She only made three pumpkin pies; apparently this group doesn't eat as many desserts as others she has seen. It was strange to have fish and chips and chicken fingers today for lunch instead of turkey and gravy sandwiches and an assortment of leftovers. With enough food on board to last us a year (although Sarah says the variety would suffer) we rarely see food in its original form on consecutive days, with the exception of desserts. We had standard Thanksgiving fare served in the buffet, but there was something missing—something didn't feel quite right. Maybe it was the lack of wine or not seeing the turkey carved. Masako had requested that the science party bring something nice to wear, so Will donned his official dress uniform of the last year and a half (dark jeans and black button down shirt), Masako and I put on skirts, and Christie sported a dress with her work boots! Masako made a short toast with sparkling grape juice thanking the crew, captain, and science party for their hard work. However, there was no typical lingering over the table, since we still had only our one-hour time slot in which to feed 49 hungry people.
In order to celebrate the holiday, the deck crew followed a lighter schedule usually reserved for Sundays, and we had a few organized leisure activities. Lunch was followed by three competitive games of Pictionary involving various members of the crew and science party. There were movies in the main lab, lots of Ping-Pong games, and general relaxation and merriment. After dinner there was a cornhole (bean bag toss) tournament on the bow. The captain and I made a strong showing as the wild-card team in the semi-finals, but we were beaten by Dani (who can officially locate the bow of the ship now) and Jay. After the games, and while a few people jigged for squid on the fantail, the captain chose The Life Aquatic for the Thanksgiving movie. Masako and the captain arranged for all of the watchstanders, Maurice, and me, to call home for Thanksgiving. The quality of the connection, via satellite, was amazing and this small (yet pricey) gesture, made a great many people very happy.
Tomorrow marks the mid-way point of our cruise, meaning that the students and I have been away from Kutztown for more than three weeks. As I watch them day to day, I am continuously impressed with their adaptability, perseverance, and good spirits. They learn as fast as anyone is willing to teach, are connecting with scientists, technicians and crew, and are working really hard. I know that most of us missed being home for Thanksgiving, but there is real sense of community on board and we enjoyed our holiday amongst new friends. ♦