The R/V Thomas G. Thompson left Honolulu on November 5, 2011 heading toward the Western Pacific. This expedition journal was written by cruise participants and uploaded about once per weekday, depending on internet availability.
November 16, 2011: AUV-Sentry, Part 1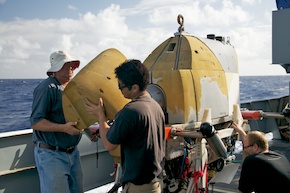 One of the more complex, and definitely most rad, pieces of equipment onboard the R/V Thomas G. Thompson is National Deep Submergence Facility's Autonomous Underwater Vehicle (AUV), called Sentry. Recently, we completed our long transit to the Jurassic Quiet Zone, and Sentry begin its first science operations yesterday. I am personally trying to assert myself as a deckhand for as many deployment or retrieval procedures as possible, and I got to be in on Sentry's deployment yesterday.
Earlier this week, Dr. Maurice Tivey gave me a guided tour of all the Sentry guts that are useful from a scientific point of view. This included devices that have never before seen this very deep Western Pacific Ocean which made me wonder about certain things like how it withstands the pressure of all the six kilometers of ocean. So, before deployment time I spent most of my day getting to know the Sentry a little better, because I had no idea how this smart and shiny yellow chiclet worked. I found myself hanging out with some of the masterful team from Woods Hole that accompanies this complicated piece of engineering, and they had some very surprising things to say about it.
First, Andy Billings from the Sentry team gave me a basic overview. After depth-testing the vehicle they found that it had a maximum depth of ~4500 meters, 1500 meters shallower than the Jurassic Quiet Zone seafloor, and the team had just three months to reconfigure the vessel. In particular, Andy told me all about the special syntactic foam that they used to replace Sentry's filling. It's a mixture of epoxy and very strong microscopic glass spheres that looks like wood and is surprisingly heavy. It's a rare industrial material, and to get it, the Sentry team used foam cannibalized from an old manned submersible. This foam provides most of Sentry's buoyancy and is rated to greater pressures. During this time, Andy and his colleagues ("Thank god for interns," says Andy) spent the summer shaping this foam to fill most of the inside of the fiberglass skin of the Sentry, so I could tell that this multi-million dollar machine meant an awful lot to them.
The Sentry utilizes both brute force and cleverness to protect its electronics at a depth of 6000 meters, where the pressure is ~9,000 psi (~600 times atmospheric pressure). I would claim the best example of the brute force approach is a titanium chamber in the middle of Sentry where all of the computers that navigate, control and record data are kept dry; whereas any electronics that must be outside of this chamber are cleverly submersed in bags of oil. At first glance, I thought this was a bit odd, but I was told that oil compresses very little, even at the external pressures present at 6000 meters down.
When I finished my crash course on Sentry, I got to see it in action last night! When it came time to put it in the water, I made sure I was right there to see it disappear into the depths of the Pacific. Which leaves me very anxiously awaiting its jubilant return early tomorrow morning. ♦