The R/V Thomas G. Thompson left Honolulu on November 5, 2011 heading toward the Western Pacific. This expedition journal was written by cruise participants and uploaded about once per weekday, depending on internet availability.
November 2–3, 2011: Pre-cruise Hawaiian Cuisine
Kutztown University students Jen Herting, Matt Sabetta, Dani Moyer, Tom Bond and Nick Mathews arrived in Honolulu on Wednesday, November 2nd. They donned their leis and the six of us headed to dinner at the home of Sandy Shor and Joan Gardner. There, our incredible hosts provided a spread of Hawaiian fare including poke, kalbi beef, Thai curry, kalua pork, and chocolate haupia pie — along with, of course, rice and mac salad.
On November 3rd, the KU students and I were joined by Purdue graduate student Rachel Gipe, and we had the day to explore Oahu and eat more Hawaiian treats. We began with malasadas, a Portugese donut filled with lilikoi (passion fruit), guava, custard or chocolate. Almost a complete breakfast! We then went to visit the School of Ocean Earth Science and Technology (SOEST) at the University of Hawaii at Manoa, where I received my PhD, because I wanted the students to see a large research-oriented academic institution. While on campus, we dodged the sporadic downpours and met with graduate students, faculty, and Brian Taylor, the dean of SOEST. We also toured the campus paying close attention to the many exotic trees including the enormous Baobab tree, also known as a Dead Rat tree.
After the campus tour, we had a quick lunch of manapua and Andy's salads in Manoa Valley, my old stomping grounds, and then set off for the circle island tour. Our first stop was Haleiwa on the North Shore, where we tried shave ice. (If you are getting the impression that our Oahu tour was based around food, you are right!) We swam at Waimea Beach Park in between the frequent rain storms. The students were amazed by how clear the ocean water is in Hawaii and by the steepness of the beach face at Waimea (~35 degrees). Since we had worked up an appetite (again!?), we stopped at a fruit stand where we had the juice and meat from young coconuts. I picked up more apple bananas for our trip and introduced the students to fresh sugar cane and local pineapple.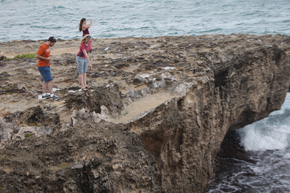 Our next stop was in Laie to see sea arches and wave-cut notches forming in lithified sand dunes. At this point I tested them (just a little) on their observation skills and geological knowledge. The dunes were vegetated at a time when sea level was much lower than today, and they contain casts of roots and stumps. Slightly acidic fresh water leached calcium carbonate creating a caliche crust, eventually cementing the sand dunes.
We continued around the northern tip of the island and headed down the windward (eastern) shore of Oahu. We stopped at a macadamia nut farm for free samples of flavored mac nuts and coffee in order to keep up our lagging strength. We also learned to crack open the raw nuts using two stones, one with a perfect nut-size groove to cradle the nut. As the sun was setting we raced to two more stops, the lookout at Makapu'u Point — the eastern most point on Oahu — and the Halona blowhole, where crashing waves hitting a hole on the rocky ledge are forced up in a spout, reminiscent of whale and dolphin blowholes.
Heading back to Waikiki, we finished our long day full, happy, and tired. ♦